We Believe
The entire eco-system of Avid Union's products work perfectly together in YOUR WORLD to help you face the next path, the next flight, the next meeting or even the next hike.
Ok, so I got my tech jacket today. It TOTALLY EXCEEDED my expectations! I had high hopes, but the jacket is downright awesome. I will reach new depths (heights?) of villainy in, and look stylish to boot.
Thank you for this AMAZING jacket. The hardware is killer as it the look and feel. It has more weight than I was expecting, which only makes it seem even slicker. Really, the marketing is good, but the jacket is better is better than depicted!
Again, my hats off to you with this incredible product!
Received my Rib a few days ago, and I love it! A few people at work have noticed but haven't asked about it just yet. I can see the longing in their eyes and its just a matter of time. Thank you again.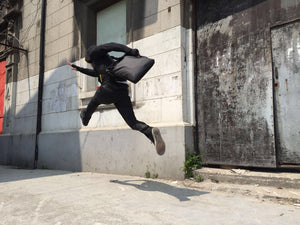 The Blade : Messenger Bag/ Backpack/ Briefcase
Sale price Price $150.00 Regular price